YOU ARE HERE!
Cyberskin
Care Instructions

Related Products


How To Care For Your Cyberskin Toys!!!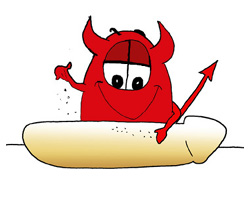 What is CyberSkin®?
CyberSkin® (also known under other trade names as Futurotic, NeoSkin, Soft Touch, UltraSkin, and Fauxskin) is unquestionably the most realistic adult toy material on the market. Quickly warming to body temperature and mimicking the elasticity and softness of human flesh, CyberSkin® has the amazing look and feel of real skin. Because it acts like skin, CyberSkin® toys require some additional care. Be aware that because of the soft texture, you should avoid contact with anything sharp such as long fingernails and prongs on jewelry. Extreme force can also cause CyberSkin® to tear. Treat your CyberSkin® toy with the same sensitivity of real skin and it will last for a long, long time.


How to Care for Cyberskin® Sex Toys


Before Use:As soon as you receive your new CyberSkin® toy:
* Inspect to make sure it is free from any defects.
* If it is battery operated, insert fresh batteries to make sure the CyberSkin® toy works properly.
* Following cleaning instructions to remove any dust or bacteria from the packaging.



Toy Tip 1: Cyberskin® is a porous material. You can cut down on the cleaning time of a CyberSkin® toy and also increase the toy life by using a condom. Use the condom on your skin or on the Cyberskin®, whichever is appropriate. The best condom to use with CyberSkin® is a plain, non-lubricated condom and apply lubrication after the condom is in place. After using your condom covered CyberSkin® toy, simply throw away the condom and use a toy cleaner to insure it is clean and safe.



Toy Tip 2: NEVER use a silicone or oil based lubricant with CyberSkin® as it can cause the toy to deteriorate Silicone does not cause the toy to deteriorate but does cause a build up on the CyberSkin® eventually making it tacky. For the life of the CyberSkin® toy only water-based lubricants should be used. Use only lubricants that have "water" or "aqua" among the first ingredients listed on the lubricant label.



Cleaning Your CyberSkin® Sex Toys:
* Clean immediately after use with either sex toy clearer or liquid anti-bacterial soap. Remember Cyberskin® is a delicate material, so be gentle when cleaning. Thoroughly wash with cleaner/soap and warm (never hot) water.
* Pat dry with a soft, cotton towel and allow to air dry completely.
* After washing and drying, your CyberSkin® toy will be oily or sticky to the touch. Dust lightly with ReNew (specially formulated powder) or cornstarch. Regular cornstarch will work. Use only enough to lightly coat the CyberSkin®. Never use talcum powder or baby powder, as these can cause irritation (talcum powder has been linked with cervical cancer). This prevents the CyberSkin® from losing moisture which causes it to harden and restores it to the original soft, non sticky texture.



Storing Your CyberSkin® Sex Toys:
* When not in use, store in a cool, dry place inside a plastic bag separate from other toys. If stored against any other sex toys, the Cyberskin® can actually "melt" or "fuse" to your other toys.
* Always remove the batteries before storing.




Download Free Printable Cyberskin Care Booklet HERE!

To download copy need Adobe Reader installed on your computer
- you can get your free Adobe Reader HERE!

---



CyberSkin Renew - TS1031295E

CyberSkin Renew - Keeps your Cyberskin, UR3 and Futurotic toys like new! Renew your CyberSkin and keep it fresh! CyberSkin Renew has been specially formulated to keep your CyberSkin texture feeling soft, non-sticky, and lifelike. To use, generously apply to clean, dry product then store in a plastic bag with a small amount of Renew. If you have CyberSkin toys in your adult collection, this is a must have! Cyberskin Renew is manufactured by Topco Sales, Inc. SPECS: Features: Twist Off Top
Size: 1.2 oz. Bottle. Renew is manufactured by Topco Sales,

Item # TS1031295E

Order Here!
---



ALL items DISCREETLY PACKAGED AND LABELED.
We respect your privacy and will
not distribute or sell your name or information to anyone!!!!